Precast Concrete Floors & Agri Concrete Products
Fogarty Concrete have concrete processing plants in county Tipperary and county Laois and provide concrete products throughout Ireland. We  supply ready mix concrete, sand and gravel to the local area (within 50km) of our concrete plant in Templederry, Co. Tipperary.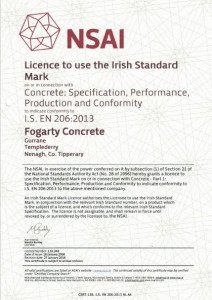 We supply and fit agricultural concrete products, such as cattle slats, solid slabs, scraper slats, manhole slabs and manhole slats throughout Ireland and the UK.
We manufacture precast concrete floors and pre-cast hollow core flooring which is quite quick to install.
The sand and gravel products are extracted and processed at the plant at Gurrane, Templederry.
The output from the plant is regularly checked to meet the grading and IS standards for the products. We are licensed to use the standard mark: I.S. EN 206/1:2013.
We are specialists in truck mounted crane hire and transport, our crane fleet of 4 cranes range from 33t/m with a maximum lift capacity of 8,500kg and a reach of 14 meters to a 90t/m crane with a lift capacity of 18,000kgs and a reach of 24 meters