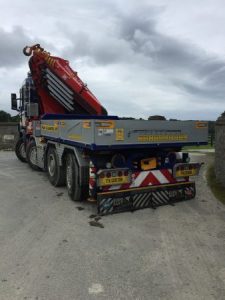 At Fogarty's, we provide a competitive and wide range of services throughout Ireland.We are specialists in truck-mounted crane hire and transport. Our crane fleet of 4 cranes range from a 33t/m with a maximum lift capacity of 8,500kg with a reach of 14 meters, to a 90t/m crane with a lift capacity of 18,000kgs and a reach of 24 meters. This crane can also be used as a rigid or tractor unit. It can pull its own drawbar or arctic semi-trailer, to eliminate the need to hire a separate truck for transport. It's compact, has all wheel steering and can access areas that no other crane can access.
What we provide.
Truck Mounted Crane Hire.
Machinery installation.
Cabin & Container Relocation.
Modular Buildings.
Plant & Equipment transport.
Recovery.
General Haulage.
Moffett Deliveries.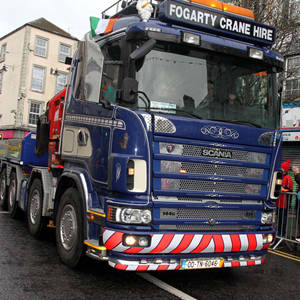 Our Fleet:
1 tractor unit with 90t/m crane.
1 five-axle rigid rated at 39.000kgs with a plant body and 33t/m crane.
2 flat-bed eight wheel rigid trucks with 33t/m cranes and trailers.
1 double drive tractor unit rated at 70,000 kgs.
1 arctic tractor unit 6×2.
Flat trailers ranging from 36′ to 45′.
Truck mounted forklift.